In a world where kids' toys are increasingly plastic and either computerized, electrical, or battery-operated, many are yearning for the simpler, wooden toys of yesteryear. Whether they are family heirlooms or modern-day classics, wooden playthings evoke a powerful sense of nostalgia.
History of Wooden Toys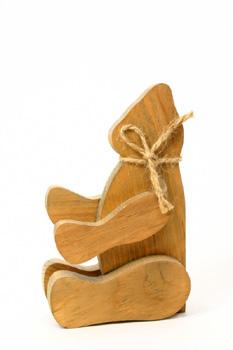 Though the date wooden toys first appeared is unclear, there is evidence that the Ancient Egyptians and Greeks used wood to create playthings. In fact, archaeologists have uncovered ancient spinning tops made of wood, ceramics, and bone.The 1700s brought the onset of educational toys in England with the advent of wooden alphabet blocks. The 18th century also saw the emergence of wooden sleds and carved miniature animals.
Wooden cars entered the scene in the 1800s, when fire engines and trolley cars became very popular.
The early 1900s brought an American building boom and that trend was evident in the toys of the era. Wooden construction toys were extremely popular. Tinker Toys were invented in 1914 by Charles H. Pajeau and Robert Petit and featured sets of spools, spokes, rods, and sticks that children used to create buildings, animals, vehicles, people, and more. John Lloyd Wright, the son of Frank Lloyd Wright, created Lincoln Logs in 1916. Made of notched, interlocking logs, Lincoln Logs were used to create cabins, stores… entire towns.
Construction Toys
Construction toys are still just as popular today as in the early 1900s. Though the sets are a bit more elaborate and offer additional accessories, they still retain their simple charm. Both Lincoln Logs and Tinker Toys are widely available today. In fact, Tinker Toys were named 2001's "Best Infant/Preschool Toy of the Year" by the Toy Manufacturers of America.
Pretend Play Toys
Kids love to lose themselves in pretend play. Toy kitchens, playhouses, dollhouses, workbenches, and more allow children to try their hands at being adults. Unfortunately, many of the modern versions of these toys are constructed of highly breakable plastic. Wooden pretend play toys, on the other hand, are often hand-crafted and heirloom quality.
Educational Toys
A wide variety of wooden educational toys are available today, including:
Wooden Beads
Mazes
Puzzles
Alphabet Blocks
Counting Toys
Construction Sets
Ride-on Toys
Wooden ride-on toys are typically powered the old-fashioned way-- by foot power! Wooden ride-on toys are available in a variety of designs, from old-fashioned rocking horses and ride-on trains to slick Harley Davidson motorcycles and whimsical ride-on ladybugs. These wooden ride-on toys generally show a durability and attention to detail that their plastic peers can't match-- and the price reflects that.
Where to Find Wooden Toys
Wooden toys such as Lincoln Logs and Tinker Toys can be found at most department stores and toy stores, such as KB Toys, Toys R Us, WalMart, and Target. Specialty toy stores often carry hand made wooden toys while high-end children's boutiques sometimes sell wooden heirlooms. In addition, wooden toys can be ordered from the following:
Smart Start Toys offers unique, handcrafted educational toys for kids of all ages. Their web site features a wonderful search engine that allows you to search by age range and desired learning values.
The Wooden Wagon offers award-winning toys and handmade dolls from Europe. They sell wooden trains, games, cars, pull toys, and much more, including the popular Ostheimer figures.
Summary
Whether you are looking for a nostalgic piece or a modern toy, there are a variety of toys made of wood available. Though they may cost a bit more than their plastic counterparts, wooden playthings are sturdy and made-to-last. If you are lucky enough to own an heirloom toy, make sure it is safe before allowing a young child to play with it. If the toy has been painted, test the paint to make sure it is not lead-based. Also make sure there are no loose parts to pose a choking hazard.