Wild Animal Printables for Kids
Most kids are fascinated with the animal world. Foster their fascination and curiosity with coloring pages that feature some of their favorite animals.
Animal Worksheets You Can Print Today
Sloth
Sloths are amazing creatures. There are both two-toed and three-toed sloths, but this worksheet focuses on the three-toed sloth. The printable has two pages that include:
Basic facts about sloths
A coloring page featuring a sloth hanging from a tree
An activity with a paper doll type sloth and his tree home
Click on the thumbnail to the right to access the PDF file.
Lion
The lion is truly king of the jungle. These amazing big cats are unique in a number of ways. These pages include:
Facts about lions
Coloring page with a mama lion and her cub
Dot-to-dot activity that results in the image of a male lion with a beautiful mane
Access the printable by clicking on the lion thumbnail on the right side of this page.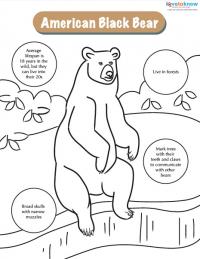 Bears
This set of printables features bears found in North America. Learn fun facts about:
Grizzlies
Polar Bears
American Black Bear
The set is made up of:
Three coloring sheets featuring each of the bear types and some fun facts
Crossword puzzle about North American bears
Click on the thumbprint to the right to access the North American bears printable.
Teach and Entertain While Coloring
The allure of wild animals comes in part from their size, their role as a predator, or their beauty or mystery. Activity sheets that feature coloring, dot-to-dot or similar activities are a great way to entertain on a rainy day and foster a love of learning about nature.
More Wild Animal Printables
Here are some places you can find additional coloring pages of wild animals that your nature-fiend is sure to love:
Fun Wild Coloring Activities
Encourage your child to really get creative when coloring. Just as these are wild animals, use some wildly creative techniques and ideas to make the coloring fun:
Use bright colors that don't necessarily match the actual color of the animal (like a purple cheetah, for example)
Draw or cut out clothing from a catalogue to put on the wild animals
Cut out pictures of the wild animals your child has colored and make a safari collage
Hang the wild animal printables in an unusual place, such as the ceiling above your child's bed or in the closet
Glue glitter or fabric on the coloring pages
Cut a fun shape around the wild animal using special scissors
Create an animal mask out of the printables
Take your coloring pages to the zoo and identify the real animals
Colorful Keepsakes
No matter what you do with your child's coloring, remember to save them as keepsakes. You never know when you might want to go on a wild animal safari from the comfort of your living room!