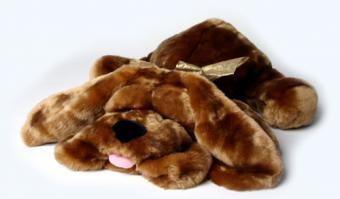 If your answer to that age-old question, "Can I have a dog?" is no, get your kids a toy dog. At some point or another, most children will ask for a living, breathing, slobbering doggie companion. Whether or not a real-life furry friend is in your future, no one can refuse a toy canine. Toy pups come in every size, shape, variety, and price.
Plush Toy Dogs
Kids of all ages, boys and girls alike, love stuffed animals. With the abundance of plush toy dogs available, you are bound to find one that appeals to the child in your life. When buying a plush toy, pay special attention to the recommended age, especially if you are buying for an infant or young child. Although stuffed animals look harmless, some feature eyes, noses, or buttons that could dislodge and pose a choking risk. Remove all tags before giving the plush dog to a small child.
Character Plush Dogs
Most popular children's book and television characters have at least one plush toy modeled after them, and dogs are no exception. Here is just a sampling of the famous dog characters available in plush form.
Clifford the Big Red Dog
Blue (Blue's Clues)
Magenta (Blue's Clues)
Snoopy (Charlie Brown)
Scooby Doo
Lady (Lady and the Tramp)
Wags the Dog (the Wiggles)
Keepsakes & Collectibles
If you desire the cuddly softness of plush but are looking for something a bit different, consider one of these.
Beanie Babies-- The ever-popular Ty Beanie Babies feature several adorable dogs, many of which have been retired. Current favorites include Juneau, Blue, Magenta, Fearless, Lollipup, Lovesme, and Pretty Puppy.
Lifelike Plush Dogs--These are not your typical stuffed animals-- or your typical prices. Manufactured by Melissa & Doug, these toys are almost exact replicas of popular dog breeds including Boxers, Dalmatians, Pugs, and more.
Interactive Toy Dogs
Many of today's toy dogs do more than just look cute-- they can also bark, growl, wag their tails, and walk. These are great for kids who are bored with stuffed animals but are too young for robot dogs. Here are a few examples of interactive toy dogs.
Robot Dogs
As close as you can get to a real pet without the need for potty training! Though Sony recently announced the end of its AIBO and QRIO robot dogs, plenty of other robotic pets are still available. Like real dogs, these robotic dogs recognize their owners' voice and can be taught tricks. These toys are not appropriate for children under age 8.
Dog Games
Games for dog lovers vary from counting fun to canine trivia and are available for all ages. Pay special attention to the age ranges listed. Games for older children may feature small parts and other choking hazards.