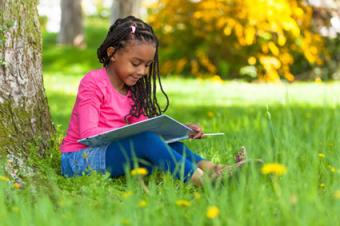 Kids love reading and being read to, and talking books for kids are a great way to accomplish both. With so many interactive books on the market now, you're sure to find one your kids will enjoy.
Benefits of Talking Books for Kids
Talking books are much more than a clever way for parents to avoid storytime! The books can actually help children learn to read. Children should read along with the books, looking at each word and hearing its proper pronunciation. Over time, even the youngest kids will begin to recognize the words.
Getting the Most Out of the Books
Parents should resist the urge to let the books babysit. Instead, sit with your children as they read. Make sure the kids are looking at the words as the book reads. Explain any new or unfamiliar letter combinations or blends. Reinforce the rules of phonics as you go. Periodically, have your child read the story out loud without the audio. To further reinforce the learning, see if your kids recognize the newly learned words out of the context of the talking books for kids. Use flashcards, worksheets, and other books to find out.
What to Look For
Just like any other book, the talking book should have an engaging story. Talking, while interesting at first, just isn't enough to keep kids enthralled over the long haul. Look for interesting storylines, colorful illustrations, and decodable words.
Where to Buy
Talking books are available at toy stores, book stores, department stores, and online. You can often find them at a discout at sites like Amazon.com. It's also worthwhile to check out discount online shops, such as Overstock.com.
There are many varieties available, from Dollar Store models to $100 electronic book readers with book cartridges. Read about a few of our favorites below.
Leapster
Leapster offers a variety of kids' learning tools, including interactive books. One example is the Read & Write LeapPad. This electronic system consists of a story reader and a magnetic pen. Children move the pen under the words on the page to hear the words and sounds. Multiple books are available.
Story Reader
The Story Reader is a battery-operated unit with interchangeable story cartridges. There are currently over 60 stories available. Both the unit and the story cartridges are available at Amazon or at Target and WalMart. The company also offers the following interactive reading products:
Story Reader Video allows children to see the story on the television screen as they read the books. Kids can also play educational games.
My First Story Reader features books geared to toddlers. Toddler and preschool activities, such as shapes and colors, are included.
Electronic Books are single-story interactive books. Titles include such favorites as Thomas Helps Out, Potty Time With Elmo, and Meet the Robinsons.
Quiet Time Books
Talking Books Online
For even greater variety, consider online talking books. These are websites featuring children's stories, along with an automated reader. The best online talking books for kids allow children to attempt to read on their own. When kids need assistance, they simply use their mouth to click on the difficult word to hear it read. Here are some sites offering this type of story: