Sticker charts can be a rewarding, yet frugal, way to encourage positive behavior in children. Sticker charts help children with all sorts of behaviors, from learning to use the potty to completing their chores and saving money. With sticker charts, parents and teachers can begin to instill values and a positive work ethic in their children from a very early age.
Free Sticker Charts
Instead of purchasing sticker behavior charts, print some and buy stickers from a local craft store or teaching supply store to use on the chart. If you need help downloading the charts, check out these helpful tips.
Monday Through Friday Good Behavior Chart
Perfect for using in a preschool or elementary classroom or for homeschooling, this good behavior chart features a fun alphabet background and space for stickers each day of the week. Children can earn stickers for good behavior throughout the day. Try alphabet or school-themed stickers. Another way you could use this chart is with blank stickers; write the behavior the child was doing well on the sticker so they can see what they are excelling at. To keep students' behavior private, have them keep it in a folder or in their desk.
Chalkboard Theme Behavior Sticker Chart
This cute chalkboard-themed chart can be used in several ways and works well for either classroom or homeschool use.
Allow students to earn stickers for random good behaviors throughout the day. (You may want to decide in advance the max number they can earn per day.) Making sure to acknowledge the correct behavior can help encourage them to continue it. Once the chart is full, kids can earn a reward, treat, or fun activity.
Use it as a Monday through Friday Chart and use the far left column to write down expected classroom behaviors. Each week parents or teachers can see progress and what areas need work.
If you're looking for a monthly chart, just write in the month at the top, and then write the dates in the spaces throughout the chart. This type of monthly chart could be used for a larger reward, such as class movie party or special outing.
Caught Being a Good Cookie Chart
Kids usually love the idea of a game or competition, and this good cookie chart makes showing good behavior fun. Explain to children that when they are "caught" following rules and showing proper behavior they can earn a sticker. Parents or teachers can even make cookie behavior challenges through week, such as going above and beyond with their work, helping another person/student, or showing a random act of kindness. Once the chart is full, have a reward such as a classroom cookie party or bake cookies together at home. It's great to use with plain black or brown circular stickers, though you could use other ones as well (such as multi-colored circles that mimic the look of M&M's).
Princess behavior Chart
For kids who love the idea of fairy tales and princesses, this chart will be a hit. Children can write their names at the top and add stickers for displaying good conduct. Use mini princess stickers, glitter shapes, hearts, or stars to make it even more fun.
Dinosaur Behavior Chart
For little ones who aren't fans of princesses, a dinosaur behavior chart might win them over instead. This fun chart features a brontosaurus, pterodactyl, and a cool volcano in the background. Use it with mini dinosaur stickers or those with fun words, like "roar."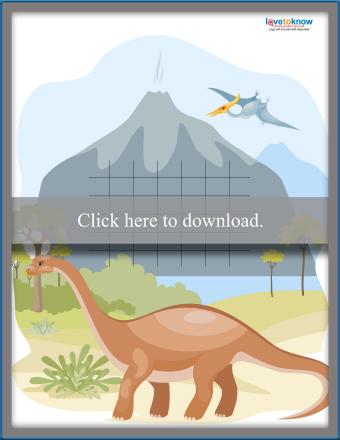 Reward and Behavior Charts
Chore Charts
Chore charts help children develop positive behaviors such as helping out around the house, learning to take care of pets and cleaning up after themselves. As children complete their chores, they add a sticker to the box.
Elementary Chore Chart - Let elementary age kids earn stickers with this chore chart that includes chores for older kids, such as vacuuming and setting the table.
Personal Chore Chart - This chart helps instill good behavior by encouraging responsibility for a child's own self and personal spaces.
Family Chore Chart - Get the whole family involved with this family-based chore chart with all household chores. Make it fun by allowing everyone to earn a fun family activity once it's filled with stickers!
Toddler Chore Chart - This simple chore chart features five simple chores toddlers can do.
Preschool Chore Chart - The Preschool Chore Chart below has pictures and words to help preschoolers learn responsibility.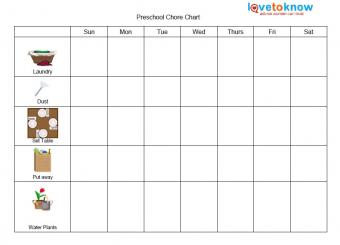 More Tips and Resources
Sometimes it's helpful to use other charts along with sticker charts to deal with behavioral issues.
For example, if a child is acting out, you may want to use a feelings chart that helps him explain and identify his emotions. Then you can deal with the issue at hand and help end the negative conduct.
Using a specific homework chart can be helpful, especially for older children. This can help them take ownership of their work and be proud of being responsible.
Understanding a child's learning style may also help address some conduct issues. If a child is bored or unable to learn well because curriculum is presented only a certain way, she may be frustrated or upset. Offering learning activities for multiple intelligences may help improve classroom behavior as well.
Making Sticker Behavior Charts Work
No matter what chart you choose to use, you must use it on a consistent basis in order for it to work. Adding additional rewards to the chart may help make it more effective. For example, for every 10 stickers a child earns, she gets a special treat, choose from a prize basket, or an extra hour of TV time. Stickers will not motivate all children, but you can tie the chart to something that will motivate your child and use it as a reminder of a larger goal.