Exchanging Valentines has been a fun tradition for kids for decades. You can't avoid the boxes of cards of all types that show up in supermarket aisles in February. You can, however, avoid paying for them. Instead, save some money and let your kids get creative at the same time by printing your cards this year.
Printable Cards for Valentine's Day
To print the cards below, click on the link and use the print icon to print. It's best to print them on card stock or heavier paper so that they are a little sturdier. If you need help downloading the printable cards, check out these helpful tips.
Double Heart Card
This Valentine's card is a doubly fun way for kids to spread the love to their friends. You can also make this one unique by adding fun phrases like "You make Valentine's Day double the fun!" or "Two hearts are better than one!" Make this card even more special by giving it with a box of conversational candy hearts or maybe a box of heart chocolates. You can even choose to add some heart stickers that your little Valentine can give to their playmates.
Monkeying Around Card
If your little is bananas for monkeys, then they might really enjoy this monkey and elephant card. It can also be a great way to simulate their relationship with their unique friends. Make this card your own by adding some original sayings like, "I'm bananas about you, Valentine!" or "Hanging around you is the best." Set your Valentine's Day card off with unique gifts like animal stickers, banana flavored candy or banana scented markers.
Brighten Your Day Card
Great for both boys and girls looking to brighten their Valentine's days, the Brighten Your Day card can be customized with sayings like "You're as bright as the sun, Valentine" or "Your smile keeps the rain clouds at bay!" Not only will it make them smile, but this card can truly make a kid's day a little brighter. Make the card even more special by adding some sunshine stickers.
You're Cool Card
Those little winter lovers out there might really enjoy the You're Cool card. Not only is the snowman fun, but there are a bunch of different ways to customize the card. You might choose to add a custom saying like "You melt my heart!" or "You're the coolest Valentine around!" Going along with the cool theme, maybe give the card with some mint candies or snowman shaped snack cakes.
Printable Valentine Cards for Kids to Color
To give your cards an even more personalized touch, you can print out black and white cards that kids can color on their own. Not only is it fun for the kids to get creative, but the recipients will love them all the more.
Meow! Card
Have your kids color in this adorable kitty showing all the love. In addition to adding a custom coloring job for a personalized look, kids can give out cat shaped treats or stickers to make this gift of love special.
Beary Cute Card
Tell a little one that they are bear-y amazing through this customizable coloring card. Just print it out to color and add a special message. Maybe give this card out with a small bag of gummy bears or other bear shaped candy to make more awesome.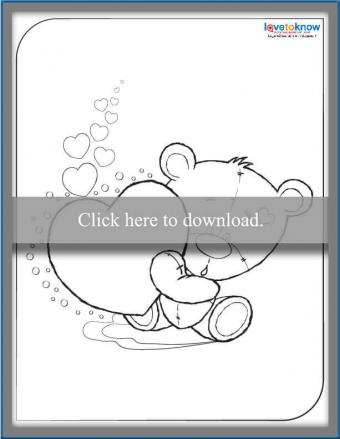 Embellishing the Cards
Print out a couple test versions on regular computer paper first, before you print multiples for giving out to the entire class. You should be able to change the settings on your printer to allow more than one card per page. Some ideas kids can use to make the cards their own include:
Drawing on them with glue and then pouring glitter over them to add sparkle
Adding stickers
Gluing paper lace to the back of the cards to make a border
Taping a treat to the back
Creating Cool Valentines Cards at Home
While store-made cards are simple and easy to buy, kids will be proud of cards they can cut out, color and decorate themselves. Consider making homemade cards a family crafting tradition each Valentine's Day. You'll get the kids involved in the holiday in an old-fashioned way.