Printable Quizzes for Children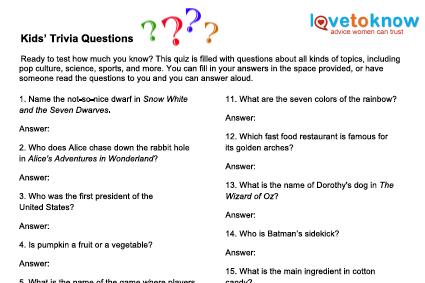 When kids complain about being bored, print out one of these quizzes and ask them to give it a try. Not only are they entertaining, they have some educational value as well. Children will love them, and you will, too!
Download Quizzes for Kids
Start out with the two free printable quizzes offered on this page. Each printable has a page with just the questions and a separate page that contains the questions and answers. You'll need to use Adobe to download and print them, and this guide if you need help.
The Kids' Trivia Quiz is filled with questions geared for kids from eight to 12, but older children and adults will find it entertaining as well.
The Funny Words Quiz is a neat vocabulary builder that asks kids to match up a silly-sounding word with its definition.
More Printable Quiz Fun
If your kids are looking for more fun quizzes, they may enjoy some of the following topics. Like the other printable quizzes, the answers are provided on a separate sheet.
Online Resources for Printable Quizzes
For many children, simply introducing a new subject by using fun quizzes can change their attitudes about learning. The following websites offer printable quizzes suitable for most children. Some are geared toward specific age groups, so keep that in mind as you browse through what's available.
Learning Can Be Fun
Who says that learning can't be fun? Some kids balk at the idea of taking a quiz outside of school, but when those quizzes are full of fun facts, trivia, and entertaining tidbits, you may find that your children become hooked on them.