Free printable homework charts help kids at any grade level in a public, private, or homeschool setting get organized and stay on task. Kids with any organizational style can find a homework chart that will work for them without a lot of extra effort.
LoveToKnow Printable Homework Charts
Start the school year off right by printing enough homework charts to get your child through the entire year. Teachers can also use them to organize and plan their homework assignments in advance. Click on the image of the chart that works best for you to download and print. If you need help downloading the charts, check out these helpful tips.
Simple Weekly Homework Checklist
Children in preschool and kindergarten can use this simple weekly homework chart to write in their one assignment for each day of the week. A check box after each day can be used by kids to check when the assignment is complete or for parents to initial that the work is done.
Fun and Easy Homework Chart
Little kids will love the fun graphics on this list-style homework chart. This printable is great for kids who don't get assignments on a daily basis because it only features sections for the subject or task and completion. One page might last you a day, week, or month depending on when homework is assigned.
Homework Chart List
Keep track of homework assignments based on the date they were assigned with this list-style homework chart. Kids can write in the date, subject, and assignment then indicate when a project or task is complete.
Homework Assignment List
Kids in a self-directed learning environment can use the printable homework assignment list to keep track of assignments. There is a space to write the subject, assignment, and completion date so kids can stay organized even when they don't have deadlines.
Homework Chart by Subject
A weekly homework chart separated out by subject helps keep older kids in upper elementary and middle school organized. Simply write in your assignments for each subject with the date they are due. As you complete each homework task, you can check off the box to indicate it's finished.
Homework Chart for Teachers
Teachers at any grade level who want to involve parents in homework time can use this homework chart for teachers and parents. Parents and teachers can keep tabs on long-term projects from week to week by having kids check the "in progress" box to show they've started it.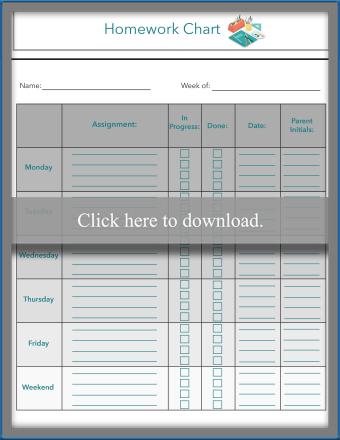 Purpose of Printable Homework Charts
Why should you use printable charts? Structure, organization, and immediate feedback are just a few reasons why weekly homework charts may be the answer to your prayers regarding your child's academic performance. You can take away privileges, ground them, and use other forms of punishment, but until you help your child solve his or her organizational issues, you're really not solving the problem. Some ways a homework chart can help your child include:
Keep assignments organized long-term
Stay motivated to complete homework
Feel a sense of accomplishment when checking off assignments
Reinforce positive child behavior and promote responsibility
Commit assignments to memory through the act of writing them down
Homework Chart Ideas
Homework charts are easy to find and print, but they aren't always easy to use. Keep in mind that if you focus too much on the chart, however, your child may begin to resent it. You want this to be a positive experience, not a negative one! Help your child create a new habit and make the most of these organizational tools using creative means>
Create a notebook filled with homework charts that serve as an instant checklist for kids, parents, and teachers to access and review.
Assign one color for each subject by printing each chart in a different color or using a colored pencil to color in the subjects.
Attach a file folder or magnetic clip to your refrigerator and place each week's homework chart in the folder or on the clip so it's seen daily.
Add a reward system like putting star stickers next to work completed then offer a reward like going to dinner or a movie for a certain number of stars.
Address any consequences for failing to use the homework chart adequately such as limiting TV time.
Review the charts at the end of each week with your child to emphasize the importance of organization and reinforce topics.
Success Through Organization
Kids' lives are busy and it's easy to forget about things like small homework assignments. Give your kids the tools they need to succeed in school such as homework charts and other organizational tools.