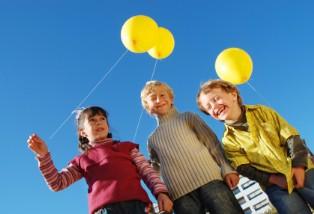 Are you looking for theme ideas for a children's treasure hunt? Kids from toddler to teen will all enjoy a treasure hunt geared towards their favorite activities, books, subjects and movies. Here are a few theme suggestions you may want to consider the next time you decide to plan a treasure hunt for your kids to enjoy.
Theme Ideas for Treasure Hunts
A treasure hunt is a great indoor party game for kids to play during the cold winter months or during a rainy summer afternoon. Treasure hunts are also perfect activities for birthday parties, holidays and other special occasions, too.
The theme of the hunt really depends on the time of year and occasion. Consider these themes for a kids' treasure hunt:
Jack Frost's Stash: Clues should lead to cold-weather accessories, like boots, coats and comforters. The final treasure at the end may be a box full of cocoa and mugs.
Birthday Bonus: Send the birthday boy/girl on a treasure hunt to find his/her presents. Alternatively, give each child attending the birthday party a few clues that leads them to their own bag full of children's birthday party favors.
Rub-A-Dub-Dub: Keep kids busy on a rainy day by sending them on a hunt for various bath items in the house. Have them gather a clean outfit, towel and bath toys. The final treasure might be a new bottle of colored bubble bath.
Cookie Jar Thief: Parents who have three or more kids (or daycare providers with several children) can plan a mystery hunt. Write a little story about missing cookies and show kids an empty cookie jar (complete with crumbs). Plant clues around the house or center that leads to a particular child's bedroom or cubby. The final treasure, of course, is a box full of cookies.
Puzzle Hunt: Each clue will lead to a piece of a puzzle that kids put together at the final spot. Glue the puzzle together for hanging in the birthday boy/girl's room, or draw a name out of a hat to send the puzzle home with one child after the party.
Beach Bums: Create a fun treasure hunt for outdoors. Kids can gather beach accessories on their hunt. Send them with clues to find shovels, pails, sifters and more. Make the final clue a new sandcastle mold in their sandbox, a note telling them they can go to the beach/swimming pool or a pair of new sunglasses.
Fun for Kids of All Ages
Although treasure hunts are usually considered kids' party games, they are perfect for using during an indoor recess or cold winter weekend. Let kids participate in selecting the theme for even more family enjoyment.