Kid's hairstyles should be easy to maintain and functional. When children are younger, you can dictate their style within reason. However, older children may want a say in their hairstyles.
Common Hairstyles for Girls
French Braid
A basic french braid works as a way to keep a girl's hair from falling into her face, but may also work as a special hairstyle for a wedding or other dressy occasion. For a less formal look, use an elastic hair tie to secure the braid. Add a barrette or a ribbon for a dressier look. While some strands may come loose, a well-done French braid may stay intact for a few days.
Small Braids
Girls with shorter hair may still put their hair in braids. Braid a few thin strands of hair and secure them with a small hair tie or barrette to add a fun look to the front of her hair. For an even more fun look, cover her entire head with small braids. This style works best with a medium-length hair cut such as a chin-length bob.
Ponytails
Ponytails are the easy way to pull hair back from a girl's face for sports and other outdoor activities. It also serves as a causal, everyday look. You may choose to tie the ponytail at the nape of her neck or in the middle of her head. Channel the styles of the 1980s with a fun side ponytail or pile her hair in a ponytail on top of her head. Older girls will want to use simple elastic hair ties to hold their ponytails, but younger girls will like to use colorful scrunchies and hair ties in bright colors or with barrettes.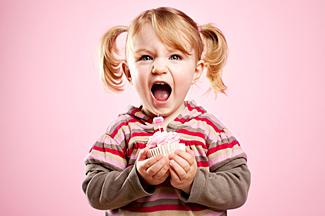 Pigtails
Pigtails make a cute, casual hairstyle for young girls. A pigtail is when the hair is divided into two sections with one secured on each side of her head. Make pigtails with two ponytails for an adorable, fun hairstyle for young girls or make pigtails with two french braids for a more classic look.
Pulled Back
Use barrettes or headbands to pull back a girl's hair. Younger girls will like colorful, plastic barrettes in fun shapes or large barrettes made from ribbon. Older girls may prefer less noticeable barrettes. Pull a strand of hair or bangs off to the side or pull a larger section of hair to the back of the head and secure it with a barrette. The style of barrette you use will determine whether the look is more casual or formal.
Common Hairstyles for Boys
Boys' hairstyles are much simpler than girls'. However, boys have more options for hairstyles now. Do you want your son's hair parted, brushed back, long in the back or simply trimmed to keep it out of his eyes?
Fauxhawk
Many boys like the idea of a mowhawk, but you may not be ready to let him cut his hair for a real mowhawk. Make a fauxhawk using gel and hairspray to style most of his hair so it stands straight up in the middle of his head.
Tousled
Give your boy a casual look by ruffling his hair with your hand, then spraying it with hairspray to keep the messy look. You may separate strands of hair and use pomade or hair gel to create the messy look as well.
Slicked Back
Slicked back hairstyles make a boy feel cool and also give him a unique look for formal occasions. Wet the hair and add gel or pomade to it. Brush the hair toward the back of the head with a comb.
Part
A part is a classic look that works well for every day wear and more formal occasions. Find the natural part on the side or in the center of your son's hair. Comb the hair to each side of the part.

Allow kids to experiment with their hairstyles. Give boys and girls gel, styling foam or hairspray to get their hair into unique shapes and styles. For some temporary fun, you may also allow them to experiment with spray-in hair colors. Girls can experiment with different styles of barrettes and other hair accessories for even more unique looks.
Choosing a Hairstyle for Your Child
Your child's hairstyle should be a reflection of his or her personality. However, you also need to make sure it's something that you can do easily. Let your child help choose how she wants to do her hair - she is more likely to take care of it this way. When you get your child's hair cut, think about her favorite way to wear her hair and make sure that the cut will allow for that style. Most of all, remember that a hairstyle is a great way to express his personality.