Junie B. Jones Book Series Overview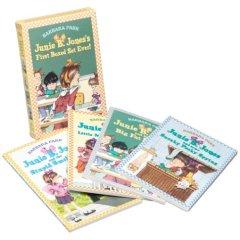 The Junie B. Jones book series is popular with new and emerging readers, largely due to the title character's spunky personality. Parents and teachers like the books because they present important character traits in an accessible manner.
Who is Junie B. Jones?
Junie B. Jones was created by award-winning author Barbara Park. Junie is your average elementary school student, dealing with everyday dramas and obstacles. For example, Junie must cope with her fear of losing her first tooth, overcome her anxiety about the "stupid, smelly" schoolbus, and reach out to new friends. Unlike many children, Junie faces each and every obstacle with spunk and tenacity.
The series begins with Junie facing life in kindergarten. As of 2006, Junie is a feisty first grader coping with life as a big girl.
About the Books
The Junie B. books are geared towards kids from kindergarten to third grade. Currently, there are 26 books available in the series, with many more planned. Books may be read in order, but each book can also stand on its own. Some popular titles include:
Junie B. and that Meanie Jim's Birthday. Junie is upset as a kindergarten classmate fails to invite her to his party.
Junie B., First Grader: Cheater Pants. Junie copies another student's work and then must deal with the repercussions. Ultimately, Junie confesses to her teacher, thus teaching young readers the importance of honesty and integrity.
First Grader: One-Man Band. Junie's excitement over a kickball tournament is short-lived as a minor injury keeps her from playing. Never one to wallow long in self-pity, Junie puts on a half-time show.
Lessons Presented
At first glance, the Junie B. Jones books are simply about a plucky, even smart aleck, child. On deeper reflection, however, the books have many valuable lessons for young kids. Perhaps the greatest aspect of this series is its very accessibility. Kids can relate to Junie B.-- she isn't the smartest kid or the prettiest kid or even the most polite. She's just a normal, average girl. That, for many, is the appeal. Her problems are not monstrous, but they are monstrous to her. Lessons that are presented, however subtly, in the books, include:
Honesty
Respect
Diversity
Dignity
Perseverance
Kindness
Courage
Citizenship
Discussing Junie B. Jones
While June B. Jones books are excellent for kids' independent reading, they can be even better when accompanied by group discussion. As you read and discuss the books, ask open-ended questions to test your child's comprehension. Answering these types of questions also helps your child experiment with public speaking, storytelling, and logical thought. Some sample questions include:
Why do you think she/he did that?
How do you think that made her/him feel?
Would you have done/said/felt that?
What would you have done?
Has that ever happened to you?
What do you think will happen next?
Parents should note that some of Junie's language is objectionable to some families. For example, she regularly uses words and phrases like "Shut up" and "Stupid". This will be a turn-off for some parents, but many choose to use it as a learning opportunity. If this language is against your family rules, simply discuss this with your child. You can point out the objectionable language and ask your child to offer more appropriate alternatives.
Books as Teaching Tools
Whether you are a homeschooling family wishing to incorporate Junie B. Jones in your homeschool curriculum or you want to use the books as a supplement to your child's existing education, the Random House website can help. Complete teacher's guides are offered for each book. If you prefer to teach based on character traits, there is a helpful guide entitled "Build Character with Junie B.". More indepth planners are also included for classroom teachers.
Buying the Books
Junie B. Jones books are widely available at local bookstores, libraries, and online sites such as Amazon.com and Half.com.