Free Cooking Games for Kids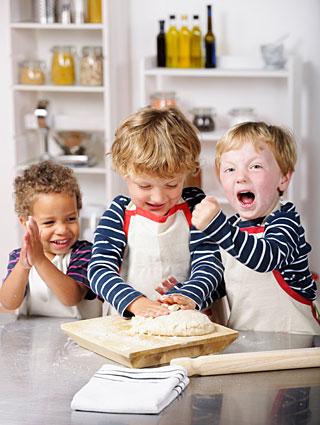 Do you have a budding chef in your house? Encourage that interest and teach other skills as well with fun cooking games that young cooks are sure to love. You can get the whole family involved, making cooking an enjoyable way to bond with your children.
Fun Cooking Games
There are many cooking games you can create with items you have on hand or inexpensive items you can buy from the dollar store or a local retailer.
Iron Chef Cookoff
Gather two or more kids and come up with some easy kids' recipes or just let them create their own invention. This game is easy to play, because you simply use items on hand. Let neighborhood parents or Mom and Dad play the judges and choose a winner.
Café
This game can be played with two or more players. Let the child create a menu with prices and take turns playing waitress, customer, cashier and chef. You can use real or play food to serve. Use plates and cups on hand. This game teaches many skills, including math, memory, writing and even good customer service skills.
Measuring Game
A simple game that is appropriate for all ages is ingredient measurement. To play this hands on activity, gather measuring spoons and cups. Set up large bowls filled with dry ingredients such as flour and wet ingredients such as water. Provide an empty bowl for your child to empty the ingredients into. Let her experiment with both the dry and wet measuring implements. This activity helps teach kids about volume and allows for some fun tactile mixing. In addition, your child can make a play dough recipe with the dry and wet ingredients and add some food coloring and essential oils for a sensory experience. Not only is this hands-on game lots of fun, it also helps teach early mathematics skills such as adding, subtracting, and even fractions!
Kitchen Counting
There are plenty of ways to incorporate counting into cooking games. How about whipping up a batch of cookies and adding chocolate chips individually onto each cookie after it is dropped onto the cookie sheet? Kids can practice adding three chips, four chips, five chips, etc. until the desired amount of chocolate is added on top of each cookie. Once the cookies are placed into the oven to bake, set a timer, and count down the minutes!
Ingredient Games
Whenever you're cooking a meal, you can involve your kids in a cooking game. A simple preschool snack can quickly become a learning activity when you ask him to name what type of ingredient you are adding to the recipe. Is it a fruit, a spice, a dairy product, or a protein? Since it's always easier to prepare ingredients prior to cooking, encourage him to get involved and help gather the pantry and refrigerated items while grouping them accordingly.
Free Cooking Games for Kids Online
The Internet offers many different free cooking games for kids. It can be time consuming to sort through the games and find the best ones. Here are just a few of the sites offering engaging games that can be played online:
Oyunlar 1 Games - A wide variety of games that allow your child (or you!) to cook online. These games are not only fun but can help with valuable skills such as memory enhancement or basic math and measuring skills. This site has many games, but the best ones include Bunnies Kingdom Cooking, Ratatouille (based on the Disney movie), Food Memory, Hamburger, Disney Restaurant and Café. This site alone will keep your child busy for many hours.
CD Kitchen - This site will build logic and reasoning skills through the use of food puzzles. Free cooking games for kids on this site include Cooking Jigsaw, Food Photo Hunt, Virtual Fortune Cookie and a Scrambled Word exercise.
Restaurant Empire - If you're looking for a game for older children, this one is a lot of fun and can teach important business owner concepts. The player starts with only a little cash and builds a restaurant from scratch, hiring all employees and making all decisions. Free download or you can buy the full version if you become truly addicted.
Building Valuable Skills
Cooking is an essential skill that both men and women need, so the sooner you can get your child involved in the kitchen the better. Online games can spark an interest in cooking and books like Kitchen Math can offer opportunities for additional learning while cooking. Measuring can create interesting discussions on fractions such as that four one fourths equal one whole. There are also games such as Cooking Mama, which are available for gaming systems such as the Wii and Nintendo DS and PC games such as Disney Kitchen. Although these cost a minor investment, they too can spark more interest in cooking while building valuable skills.