There is a lot of computer learning software for kids available. Arguably, learning how to use technology is one of the most crucial skills you can teach your children. Explore different software that kids might enjoy along with apps and online software systems that can help your kids to learn about a variety of different subjects.
Kids Computer Learning Software
Software for the computer can come in all different formats. You might find subject-specific software that covers STEM, reading and health or programs with a little bit of everything. Kids can also download applications that push the learning experience. Explore different software and applications available to broaden your child's mind and expand their learning scope.
DreamBox
DreamBox offers you online learning software for kids through an adaptive learning platform that offers assessments and aligns with Common Core and other standards. Effective for 5- to 13-year-olds, DreamBox includes more than 2,000 fun interactive games and lessons. The lessons are designed to adjust to the kids learning levels and pace. This service also offers downloadable apps for iPad. Subscriptions for this online software service start at $13 a month for an individual. This highly reviewed software package was given 4 stars by Common Sense Media and listed among the 4 Math Software Programs for Students.
Math Missions
Also featured among the 4 Math Software Programs for Students, Math Missions is a fun arcade-style game for kids from 9 to 12. Available as a CD, the premise of the game has students solving math-based equations to ensure Spectacle City doesn't get urban blight. This game-style learning software allows kids to solve real-world math problems while having fun. In addition to winning a Parent's Choice Award, Edutaining Kids found the software cute and enjoyable for kids. At a cost of only $15, you can't go wrong.
Zoodles
Learning while playing is the name of the game at Zoodles. Offering thousands of games and videos covering subjects like math, reading, and science, Zoodles offers a well-rounded experience for kids up to 8. This company offers a free and premium version of their online learning software that includes an app for you to download on your computer, tablet or phone. The premium version which costs $8 a month, allows you to get detailed activity reports and set time limits on your tablet. You can also block specific apps that are offered through Zoodles. In addition to getting high reviews from education sources, Zoodles received a gold award from Family Resources and Great Interactive Software for Kids Award from the American Library Association.
Inspiration Software
Another learning software that can help kids through visual learning is Inspiration Software Inc. Designed for K-12 students, inspiration software is for making graphic organizers, mind maps, webbing and outlining. This helps students with visual thinking in all different classes. Math students can also use this software for making plots and graphs. Listed by Education World as The Best of the Basics, this software can help teachers and students alike learn new subjects. This downloadable software starts at $40.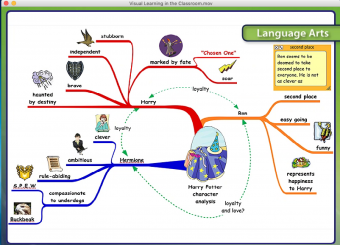 Reading Eggs
Using games and activities, the Reading Eggs apps and online learning software will take kids from 2 to 13 to a whole new reading level. Several apps are offered in 4 different levels and cover pre-reading skills, phonics, sight words, spelling, and comprehension. Using reading libraries, videos and games, kids don't even realize they are improving their reading skills. The cost starts at about $10 a month, but there are yearly and family packages. Verified Reviews gave Reading Eggs a solid 4.6 out of more than 3700 reviews. Common Sense Media also gave the app a solid 4 stars.
Homer
A downloadable app-based learning tool, Homer helps early readers through 1,000s of lessons on phonics, sight words, reading guides, the alphabet, and comprehension. This program is designed for kids aged 2-8. It works to tailor the learning to the child's interests and grows with their budding reading style. Listed among the Best Reading Apps for 4 to 8-year-olds, Homer has been shown to increase reading proficiency by 74%. It was also given 5 stars by Common Sense Media for personalized literacy programs. While a free trial is available, getting a subscription will cost you $8.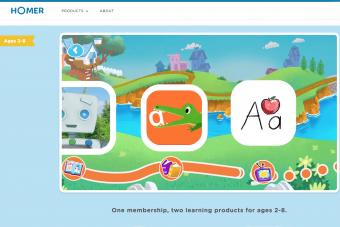 The Human Body by Tinybob
Designed for kids over 4, The Human Body by Tinybob allows kids to explore the intestines, eyeball, digestive system and more. Not only can kids delve into the bones of the skeletal system but they can explore how the ears hear a sound. Available as an app for computers, tablets, and phones, kids can take the human body with them in the car or at school. The models are interactive on the app, and it was given the Children's Technology Review Editor's Choice award. Coming in at a cost of $4, this online application was listed among Best Science Apps for Elementary School Kids.
Ask the Experts
The first stop when looking for information on computer learning software for kids of any age is educational websites. While you could just try a Google search, you probably would do better to focus a search through people who make it their business to review exactly these kinds of products.
Children's Tech
Children's Tech is just such a website. Modeled after the same kind of computing magazine many parents look at, it reviews the software that is designed to teach kids about computers. The real benefit of this particular website is the in-depth reviews it gives of various kinds of software based on the level of education - from pre-kindergarten through middle school. While the reviews do cost money, the fact that the site is not supported through advertising lends credence to their opinions.
Edutaining Kids
Edutaining Kids is another review website, and while you do get all the content for free, it is supported through advertising. The site does, however, break software reviews down into different levels based on learning. Once you click through several ad-cluttered pages, you do end up getting to lists of particular titles of children's computer learning software. The reviews are short and succinct and include valuable information such as the potential for the software to hold a child's attention, or whether the kids will likely need parental help in navigating the program. Spending some time on this site can definitely give parents some good ideas about how to best focus their computer-game budget.
Superkids
If you are looking for the best software for a particular subject area, check out a general site such as Superkids, which shows several subject-based software tools. Superkids has a very thorough way of reviewing the software. Not only do their reviews include an overview of ease of installation, style of play and educational value, but they will also tell you what kind of machine the software was reviewed on. This gives you a frame of reference as to how it will perform on your machine.
Finding Educational Software
While computers can help kids learn, it doesn't replace the human touch. Whether coming from a teacher or a parent, the reinforcement of a supportive adult can make using these programs even more fun no matter what the age.