World of Possibilities
Coming up with new cake designs for kids birthdays year after year can be challenging, but we're here to help. Break away from traditional frosting, and you'll find a whole new world of design possibilities!
This cake features colored fondant in a variety of shapes and letter candles.
Doll Cakes Are Fun
Doll cakes are a new, fun twist on girly favorites. Why settle for a flat sheet cake when you can have an actual 3D cake complete with real doll?
A variety of bakeries, including the ones at chain grocery stores, sell Barbie doll cakes. You can also buy doll-shaped novelty cake pans online and at specialty baking stores, and make your own. These cakes can be tricky the first time or two, so you'll want to have at least one practice run prior to the party.
Utilize Layers for a Large Party
If you are having an all-out birthday bash, have a multi-layered cake. This gift design is a pretty and creative use of vertical space.
This cake is covered in pink fondant. The bow is make out of candy clay.
Make Use of Unusual Pans
Break away from the traditional round or sheet cake; have a rectangular birthday cake! This shape works well for birthday themes needing letters, cubes, roads, rivers, or train tracks.
Cake pans are available in a wide array of shapes, including rectangles, hearts, stars, cupcakes, and trains.
Icing Embellishments
Old-fashioned, edible icing decorations have come a long way! Colorful, tasty hearts embellish this pastel floral cake.
You can find icing decorations in most any design to fit themes as diverse as sports, animals, and nature.
Versatile Fondant
Fondant can be used to cover a cake, or it can be used for the accents alone. Cute fondant flower cut-outs and a satin ribbon take this cake from fine to fabulous. Fondant can be cut into any shape needed. Specialty stores, both online and off, sell fondant cutters that are similar to cookie cutters.
Candy Clay
A zebra fashioned out of candy clay adds pizazz to a traditonally frosted cake. You can use candy clay to make a variety of animals, flowers, bows, and more.
Gum Paste for Realistic Flowers
If you need flowers that lean more towards realistic than whimsical, use gum paste. Since gum paste has the consistency of clay, it is relatively easy to use. Please note that gum paste flowers are not fit to eat!
Elegant Kids Cake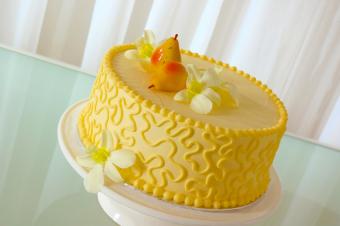 A cake covered in etched fondant and topped with realistic fruit and flowers is perfect for a more elegant kids party, such as a tea party.
Frosting Flowers
Use either royal icing or butter cream frosting to create lovely flowers, borders, and other embellishments. You'll need a pastry bag and the appropriate tips.
Sometimes Smaller is Better
For a smaller party, or simply for unique presentation, try miniature cakes. Make several miniature cakes and decorate them in different, but complementary ways.
Cake Toppers
Make use of holiday-related cake toppers if your child's birthday is near a major holiday.
Rainbow-Colored Cake
Don't stop at decorating the outside of the cake; make the inside pop too! Simply mix gel food color into the batter for bright, lively batter. If you'd like a rainbow effect, divide batter into equal parts in separate bowls. Add food color and mix. Pour batter into your cake pan one at a time.
For more birthday cake ideas, visit: