Making use of fun Super Bowl activities for kids can help get them into the spirit of competition while providing teachable moments. The nationally televised sporting event featuring the top two teams in the National Football League (NFL) is a terrific opportunity for family bonding, especially if you use Super Bowl activities for kids to help get your children into the spirit of the game.
Plan a Kid-Friendly Super Bowl Party
Kids love parties. Since you are already planning to watch the Super Bowl, why not invite other families and make it a Super Bowl party?
Design Super Bowl-themed invitations with your kids using the colors of the participating teams.
Plan a menu that incorporates the colors of the teams into the foods.
Bake football and helmet-shaped cookies and decorate them with team colors.
Make decorations in the colors of opposing teams.
Have all the guests come wearing football jerseys.
Decorate football-themed cupcakes with green for turf and use decorator's icing to pipe on white field lines.
Serve some fun, nonalcoholic Super Bowl mocktails.
Super Bowl Arts and Crafts
Arts and crafts are another fun way to get your kids in the spirit of the Super Bowl Sunday.
Make team pennants for both teams using felt and glue.
Use fabric paints to create t-shirt "uniforms" for your favorite team. You can also decorate socks or other white pieces of clothing.
Create football dioramas using shoeboxes and recycled items from around the house.
Create a football team program in the shape of a helmet or football. Use decorated construction paper for the cover. Inside the book, children can draw pictures of players and write player bios.
Have children design team logos out of construction paper and other materials.
Printable Super Bowl Coloring Pages for Kids
Set up a coloring station with football-themed printable coloring pages kids can customize with their own designs or the official NFL designs for the two Super Bowl teams. Click on the image of the coloring page you want, then download and print. If you need help using the printable Super Bowl coloring pages, the handy Adobe guide can help.
Football Coloring Page
Kids can color in one large football designed to resemble an official NFL football and four smaller, general football shapes. They can even cut out the footballs to use for other Super Bowl crafts and activities.
Football Jersey Coloring Page
Create your own custom Super Bowl jersey with the blank football jersey coloring page. Kids can add in their favorite number and a team name or model the jersey after their favorite Super Bowl player's.
Football Stadium Coloring Page
Kids will learn a little about the different parts of a football stadium as they color one. Check out the stadium where the Super Bowl is being played and use the same colors to recreate in on the coloring page.
Football Mascots Coloring Page
Super Bowl mascots are fun for kids to see and so is this football mascot coloring page. It features a tiger football player, dolphin football player, and rooster football player.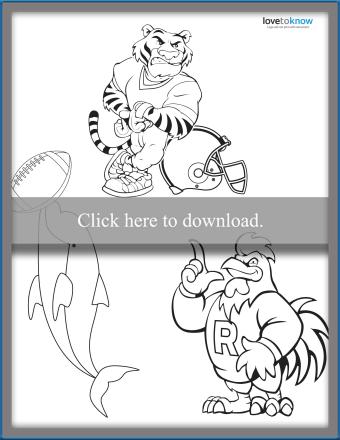 Creative Super Bowl Learning Activities
The Super Bowl is also a good time for learning. Kids can sharpen math and word skills by participating in Super Bowl-themed activities at school or at home.
Create or find a word search with football and Super Bowl words including team names, football terms, team colors, and more
Have older kids create a football-themed crossword puzzle that younger kids can solve.
Create a football quiz for kids to solve.
Teach children to calculate simple math concepts such as yardage during the game and ask them how far the team has to go to get a touchdown.
Have kids identify the teams' hometowns on a map.
Have your kids do basic Internet research to learn simple facts about the cities of each team.
Fun and Simple Super Bowl Activities for Kids
If you're just looking for activities for activities to keep the kids having fun and being entertained during the Super Bowl, consider the following.
Set up a team spirit and fun station with super light clay (such as Crayola's Model Magic) and some plastic clay tools. Be sure to include brown for miniature footballs and green for turf. Kids can get creative with miniature football pieces or make team spirit items with clay in team colors.
Set out some sturdy paper and let kids create their own Origami footballs to play with.
Set out some simple props and prompts and let the kids create their own Super Bowl commercials. Use a video camera or cell phone camera to record the results.
Challenge kids to come up with creative football cheers or chants to cheer on their team.
Create a treasure hunt or scavenger hunt with simple clues around the house and small Super Bowl-themed prizes.
Older kids might enjoy a break from the game by trying their hand at a few logic puzzles.
Give kids a list of easy football trivia questions or a list of things to spot during the game. Each time they get a question right or spot an item, they get a point. Have some small Super Bowl-themed prizes on hand they can redeem their points for.
Active Super Bowl Games for Kids
When it's time to get active, try these football games.
Create a football toss by hanging a hula-hoop from a tree branch. Have everyone try getting the ball through the hoop. You can modify this game for indoors by using a Nerf football and clearing a safe area where the toss can take place.
Play football charades or Pictionary, having kids act out various football terms.
Play "balloon football." Blow up a balloon in each of the teams' colors and bat the balloons around the room, trying to keep them in the air. Whenever a balloon touches down, the opposite team gets seven points.
Have all participants write a football cheer and perform it. Vote to see whose is best.
Play pin the helmet on the player, pin the player in the end zone, or pin the football in the center of the uprights.
Super Bowl Fun for Everyone
The Super Bowl can be fun for kids of all ages. Coming up with a few simple activities and Super Bowl games for kids can make it a fun time for the whole family. Even if your kids aren't die-hard sports fans with bedrooms decorated in sports motifs, with some pre-planning, you can keep all of your kids excited about one of America's most popular sporting events.