Coloring is a great activity that helps teach kids how to focus and use their imagination. When it's too cold to play outside, give the kids some of these original winter printable coloring pages to keep them busy inside. They're absolutely free, so you can download as many sheets as you like.
Free Winter Coloring Sheets
Kids will love these winter coloring pages filled with fun designs. A frosty-looking snowman, children ice skating, and peppermint candy canes will capture their imaginations and ignite their creativity. The sleigh ride coloring page even looks like a scene right out of Jingle Bells. Just click on the page you want, and then click the print button after the file opens.
If you need help downloading these printables, check out these helpful tips.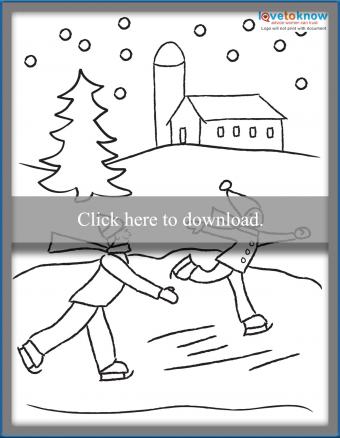 Ways to Use Your Printables
Aside from having your little one spend some time coloring these pictures in, there are several ways you can make the most of these fun printables.
Snuggle Up Story Time
During chilly evenings, snuggle up and use one of the finished printables to come up with a story with your child. You can make the story up, have them tell you a story about their picture, or you can both collaborate by creating a story together one line at a time.
Winter Decorations
Hange the printables around the house during winter months and even around the holidays to give the house an extra festive feel.
Use as Cards or Gifts
These printable can also be used as sweet, individualized holiday cards. Have your child color in a special picture for some of your family members as a unique gift.
Counting Practice
Young children can get some extra math practice in with these pages. Have your child count the number of snowflakes and let her color in the page for fun when done.
More Printable Winter Coloring Pages
If you are in need of a few more options, the following websites offer a variety of printable coloring pages with winter themes that your kids will enjoy. Take some time to enjoy these pages with your children, and choose a few of your kids' favorite pictures to hang on the refrigerator, or in their bedroom.
Activity Village is a must-see. It has some wonderful coloring pages. Choose from topics like downhill skiing, building a snowman, snowball fights, and an entire category devoted just to winter sports.
DLTK's Coloring Pages feature a wide variety of free, printable pages your children can color. You'll find penguins and igloos, a winter sleigh, an abominable snowman, and so much more. There are even some connect-the-dots and color-by-number pages.
Coloring Pages for Kids offers pictures that are filled with detail, giving kids an opportunity to create beautiful pictures. Picture choices include a snowball fight, building a snowman, a child riding a sled, and many more.
A Snowy Day Backup Plan
Coloring pages offer kids some good old-fashioned fun, especially when they're cooped up in the house. Coloring engages children's imagination, can be done solo, or can be a fun activity to do together. The next time a big snowstorm rolls in, print out a few of these winter coloring pages to help keep your kids busy until it's safe to play outside again.