Free Printable Kids' Menu Templates
Providing kids' menus at parties, sleepovers, holidays, or large events like weddings can help with planning and provide entertainment for the children. Choose the free menu template that works best for your event by clicking on the image to download, personalize, and print. Consult the guide to printables if you run into issues accessing the document.
Adventurous Meal Menu
Get kids excited about their meal options with a treasure map-themed menu. Name each "region" something fun - like Dessert Desert - to fit your specific pirate, travel, or survivalist theme.
Full Color Version
Get the look and feel of a real map with this aged-look version. Print it on a lightweight paper so you can roll or fold it up like a "real" treasure map.
Black and White Version
If you want the menu to double as an activity, print the black and white version so kids can color in their own unique map. Extend the activity by hiding the crayons so kids have to go on a treasure hunt to find them.
Food Characters Menu
Playing with food can be fun, especially when you incorporate cute characters like a giant drink or happy pizza slice.
Full Color Version
Make food fun with brightly colored happy food characters like French Fry Guy and Pizza Pal.
Black and White Version
Give kids the chance to create their own characters by coloring the black and white version. Extend the activity by asking kids to name each of the characters.
Balloon Menu
If you're hosting a birthday party or any kid's gathering, this celebratory balloon menu is perfect.
Full Color Version
Jazz up table settings with these brightly colored red, yellow, and blue balloons. Turn each balloon into an individual menu by cutting out the shapes.
Black and White Version
Let kids choose their own balloon colors with this coloring page menu.
Kids' Menu Games
With this superhero-themed menu, kids can play three games while they wait for their food to arrive.
Full Color Version
Bright reds, blues, and yellows make this kids' menu standout. For home parties, give kids a piece of their own superhero costume for each activity or game they complete on the menu.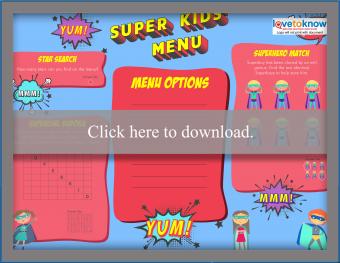 Black and White Version
Kids get to create their own unique superheroes as they color in the characters on the blank superhero menu.
Creating an Exciting Kids' Menu
Your entire event is supposed to be fun for everyone, adults and kids alike. Mealtime can put a damper on the mood if kids' preferences aren't taken into consideration. Be sure to provide a great selection of kid-friendly options.
Offer Unique Options
Menus for kids have become boring and predictable with pizza, chicken nuggets, and pasta. Give your menu an exciting twist that will have kids tasting all kinds of new foods by offering unique fruits like dragon fruit or exotic foods on a stick such as chicken satay.
Use Bright Colors
Take inspiration from adult cocktails and offer up child-friendly drinks or other menu items that look bright and fun. Try out some simple mocktails instead of the standard milk or juice. Use clear cups to show off the colors and top with fun accessories like striped straws or miniature umbrellas.
Plate Fun Shapes
Get creative with your meal, side dish, and dessert shapes to entice the kids. If you're serving frozen pizza, for example, use cookie cutters to offer kids options on the shape rather than doling out regular triangle slices.
Let Kids Plan the Meal
If you like to be prepared in advance, send out a poll or survey with your invitations to see which options will be most popular, then put those items on the menu. If you don't mind a little spontaneity, leave the menus blank and stock your kitchen with everything from their suggestions that you can. Once the kids arrive, let them write in their menu choices.
Make Meals Fun
When kids have a hand in choosing the foods they'll eat, they're more likely to fill their bellies. Ask your child or a few other kids who will be in attendance to pick which printable menu they like best, then let them share ideas on specific options to offer.