Due to the rich foliage and abundant sources of water, some of the world's most unique and interesting animals call the jungle their home. From primates and cats to fascinating reptiles and cartoonish birds, the jungle is teeming with animals for you to learn about.
Central and North America
From Mexico to Panama, animals in this area feature some of the most brightly colored, best documented and even most deadly in the world.
Brazilian wandering spider - Often called 'banana spiders' because they are frequently found on banana leaves, these creatures are considered one of the deadliest spiders in the world. They are unique because they actively hunt to catch prey.
Glass Frogs - This cool frog gets its name from having nearly translucent skin and a ventral side. They like to live in trees and are found largely in Central America, although you can find them in South America as well.
Green Basilisk Lizard (Jesus Lizard) - The green basilisk lizard, or Jesus lizard, is so named because it can run on water. It does this by unfurling fringes on its back legs that increase the surface area of the water in combination with using its great speed.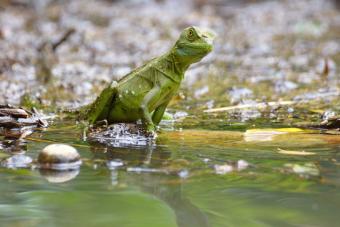 Jaguars - Jaguars can be found in a variety of habitats including the jungles of Central and South America. They are incredibly good at hunting, and their bodies are designed to kill prey. They have a rough tongue for peeling back skin, and loose belly skin so they can get kicked by prey but not be injured. Stay far away from these cats.
Quetzals - The quetzal is a colorful bird with an iridescent green body and tail feathers that are as long as his body. They are incredibly colorful and are featured often in the folklore of Central America. The Quetzal is so widely revered that it is actually on the Guatemalan flag.
Spectacled Caiman - The spectacled caiman makes its home in Mexico and other jungles in Central America. It gets its name from a bony ridge that sits in between its eyes that makes it look like its wearing glasses.
White-nosed Coati - The coati has a long snout for foraging and a semi-prehensile tale that it typically holds straight up above its body.
South America
Monkeys, butterflies and more - the Amazon jungle alone hosts more than two thousand different species of animals.
Bushmaster - The bushmaster is a pit viper that lives on the floors of the jungles in Costa Rica. It uses 'pits' behind its eyes and nostrils to smell prey and may lie in wait for weeks to ambush prey along popular routes.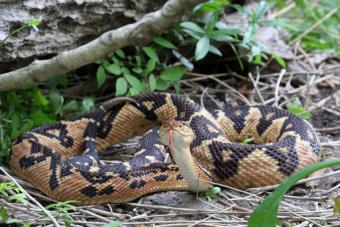 Africa
This continent is home to a wide variety of climates, but the jungles are located primarily in the central part. They host a variety of animals and are especially known for being home to many of the world's primates.
Baboons - Found mostly in Africa, these large monkey relatives can grow to be about 80 pounds, making them one of the biggest primates. Their most dangerous predators are humans.
Bongos - One of the largest rainforest animals, Bongos are found in the jungles of Africa. They have long, spiral antlers that they use to help them navigate the jungle floor.
Asia-Pacific Region
From the jungles of Borneo, Java, and Sumatra to New Zealand, Australia and more, this area of the world features a tropical climate perfect for a variety of animals to live.
Flying Foxes - Not really a fox at all, this fruit bat is one of four mega-bat species in Australia. They are a protected Australian species and are incredibly important for the ecosystem in which they live as they are efficient pollinators.
Jungle Animals of the World
Jungles and rainforests play home to almost 50 percent of the world species. Studying jungle animals is a great way to learn about the natural resources jungles offer as well as the biodiversity of interesting animals including insects, birds, reptiles, and mammals.