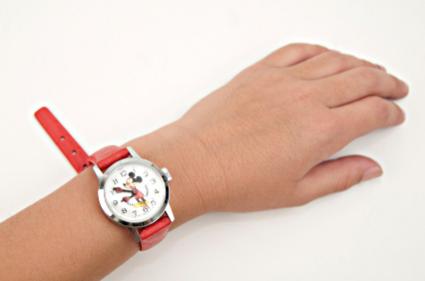 If you're shopping for a special child, you can encourage timekeeping and provide a cool accessory by choosing a watch that features a favorite movie, book, or television character. From Marvel Comics to Lego-inspired creations, character watches are both fun and educational.
Fun Character Watches for Kids of All Ages
Almost every child has a favorite show or movie with a favorite character. There are many products that have licensed these characters, including watches and watch companies. Consider some of the following popular options.
Marvel Comic Watches
Comic book characters have experienced a resurgence in popularity recently, due in some part to the many comic-inspired movies that have hit the big screen. Elementary-aged kids and older love sporting watches that feature Spiderman, Iron Man, Captain America, and other famous superheros.
These time-teacher watches have stainless steel cases for durability and simple, kid-adjustable straps. Each watch features a different superhero, so kids can choose their favorite. They retail for about $25 to $35 each.
Disney Character Watches
The classic Mickey Mouse character watch is still a popular choice with kids, as are other beloved Disney characters like the famous princesses, the characters from "Cars" and "The Incredibles", and Phineas and Ferb. No matter which character your child loves, Disney makes a watch that features that character.
You can purchase the perfect timepiece from Disney's full line of customizable character watches at the Disney Store. You can choose the color of the watch case, the strap, and the hands, which are helpfully labeled with "hour" and "minute." You can select that favorite Disney character and personalize the watch face with the child's first name. Each customized watch costs about $35.
Angry Birds Watches
The popular video game Angry Birds has inspired a full line of children's clothing, accessories, and toys, and watches are no exception. Most of the Angry Birds watches feature toppers, or pictures of favorite characters, that are interchangeable, and many also feature bands that kids can mix and match.
The Angry Birds LCD Feelin' Fly Watch is a great choice for any young Angry Birds fan. This digital watch retails for about ten dollars.
Sesame Street Watches
The beloved Sesame Street characters bring lots of fun to the experience of telling time. Kids can show off their favorite characters, such as Grover, Big Bird, Elmo, Oscar the Grouch, Cookie Monster, Abby Cadabby, and more. Many watches feature adorable furry bands that emulate the characters they represent.
Kohl's sells a full line of timepieces inspired by these favorite characters with prices around $25. They make a great choice for any young child, since the watches feature a clearly marked analog dial and a comfortable rubber strap. It's also water-resistant and has glowing hands for nighttime time-telling. They retail for about $24.
Lego Character Watches
With the recent popularity of Lego video games, as well as the enduring popularity of Lego toys, watches made by Lego are a great choice for any child. Often, these watches feature characters Lego has licensed, such as favorites from "Star Wars," "Pirates of the Caribbean," and "Ninjago."
Amazon.com has dozens of different Lego character watches, many featuring bands with snap-off Lego character toys. They are water-resistant and have durable plastic cases and bands. Prices range from about $20 to $30, depending on the character and the features of the watch.
A Favorite Friend for Telling Time
No matter which character watch you choose for that special child, a favorite friend is a great way to encourage learning. Kids will enjoy looking at that beloved character on their cool watch as they become accustomed to the practical skills of telling digital and analog time.