Valentine Craft Ideas for Kids of All Ages
Valentines and gifts mean more when they're made by hand, and this is such a great holiday for kids to get creative and have fun. There are so many wonderful Valentine's Day crafts for kids of all ages - from super simple cards for the littles to make to more involved projects for older kids. A lot of ideas are scalable too, so you can make a simple version with younger kids.
Handprint Heart
This is a wonderful Valentine's craft for Mom or Dad, since it also works as a snapshot in time. Handprint crafts preserve the way those hands looked when they were little, and kids love looking back on that too. To make this, you'll need red construction paper, white tempura paint, decorations, and glue.
Have kids dip their hands in white paint and create a heart with overlapping handprints on the red construction paper. You may have to help younger children with this; there's a little bit of coordination required to get the prints in the right spot.
Allow the handprints to dry.
Add a decorative border of cut-up paper, artificial flowers, or anything else that's fun.
Helpful Hack
If you're doing this with several kids, save yourself a headache and label the construction paper with their names. That way, the handprints won't get mixed up during drying.
Heart-Shaped Fan
Did you know that if you fold a circle accordion-style, you can make a heart shape? You can use standard round coffee filters for this and color them with markers, or you can use pretty printed paper that you've already cut into circles. The bigger the circle, the bigger the fan (10 inches in diameter is a good place to start). You'll also need glue and a popsicle stick.
Lay the circle flat on a work surface and begin folding it back and forth, accordion-style.
When the whole circle is folded, fold it in half lengthwise. This will create a heart shape. Use glue to make it permanent.
With more glue, add a popsicle stick handle to the fan.
Valentine's Day Cupcake Toppers
There's pretty much nothing sweeter than cupcakes as a Valentine's Day treat, and this craft goes perfectly with the tastiest confections. It also leaves lots of room for kids to express their creativity. You'll need construction paper, glue, toothpicks, markers or crayons, and any edible decorations you like.
Cut hearts out of paper, keeping them about an inch and a half in diameter. You can do this ahead of time to streamline things for little kids who might struggle with the scissors.
Decorate the hearts any way you like. This is where the markers and crayons come in.
When you're ready, place one heart upside down on a work surface and add glue to the back of it. Place a toothpick in the middle and add another heart on top. Let this dry to make a cupcake topper.
Quick Tip
Avoid glitter and any small non-edible decorations that could fall off the cupcake topper onto the frosting of the cupcake.
Curly Straw Valentine's Craft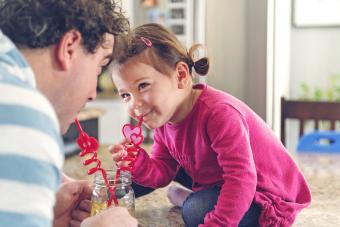 Any beverage seems special when you drink it through a curly straw, and this Valentine's craft for kids is a fun way to customize curly straws for the holiday. This is super quick and easy too, which means you can do it with little ones who might not have the longest attention span on the planet. Start with a store-bought straw and add your own paper decorations.
Grab a few sheets of construction paper and cut out little hearts. There's no rule about size here - whatever works for you.
Decorate the hearts with markers or crayons. You can also use lace or fake flowers that you glue on.
A piece of clear tape is all you need to attach the heart to the curly straw. You can use more than one heart if you're feeling extra fancy.
Chair-Back Valentine's Pouches
At home or at school, having a chair-back pouch is a great way to contain all those little Valentine's Day greetings and gifts. Kids can make the pouch themselves for even more fun. There are so many ways to customize it too. You'll need a large piece of construction paper or thin posterboard, some ribbon, and a stapler, as well as decorations and art supplies.
Fold an envelope out of the paper or posterboard. You can keep it super simple with a rectangular flap or do it on an angle to look like an envelope. There's no wrong answer.
Decorate the pouch with the name, plus lots of hearts, flowers or other creative artwork.
Cut two pieces of ribbon (any width), each about 18 inches long. Staple these to the back of the pouch so you can tie it on a chair.
Stained Glass Heart Window Decoration
There's something so pretty about tissue paper stained glass, and this is a Valentine's Day craft that kids will be proud to give to Dad, Mom, or anyone else they love. All you need is construction paper, clear cellophane, tissue paper, glue, water, and scissors.
Cut a heart of out clear cellophane.
Mix glue and water in a 50-50 combination.
Apply a thin layer of glue to the heart using a paintbrush. Work in sections, adding little scraps of tissue paper as you go.
After all the scraps are glued on, add another layer of glue over the top. Let everything dry.
Cut a frame for the heart out of construction paper and glue it on.
Valentine's Day Garland
With this Valentine's Day craft idea, it's easy to add as many custom touches as you like. The fun is in decorating the hearts. You can make the garland spell out a message or just try out different decorations on each section.
Have kids cut hearts out of paper. It doesn't matter if they're the same size, so you can make a template for them or just let them wing it.
Let the kids decorate the hearts any way they want. You can't go wrong with lots of glitter here.
Cut a piece of ribbon in the length you want. Six feet is a good starting point.
Use tape to attach the hearts to the ribbon. Put the ribbon closer to the top of each heart so they will hang well.
Homemade Valentine's Slime
Kids love slime, and it's pretty easy to make yourself with some little assistants. All you need is some food coloring (might we suggest red?), a bottle of school glue (8 oz), a tablespoon of baking soda, and about two tablespoons of saline from the drugstore.
Dump the entire bottle of glue into a bowl.
Mix in a few drops of food coloring. It's better to go for pastels so the slime doesn't stain kids' hands.
Sprinkle the baking soda over the top and stir to combine it thoroughly.
Stir in the saline gradually. The slime will start to thicken as you mix it in.
Quick Tip
For even more festive fun, add some glitter or heart-shaped confetti to the slime.
Get Creative on Valentine's Day
Even simple crafts, like creating Valentines with layered construction paper hearts, can be a fun and cute craft for kids of any age.
It's so much fun to craft with kids for Valentine's Day, whether you're doing it as a party activity or just a fun parent-child bonding afternoon. Prepare yourself for a little mess and let go of any agenda you might have. Things don't always go according to plan when you do art with kids, but it's always a great way to have fun.