Eight Creative Ideas for Celebrating Back to School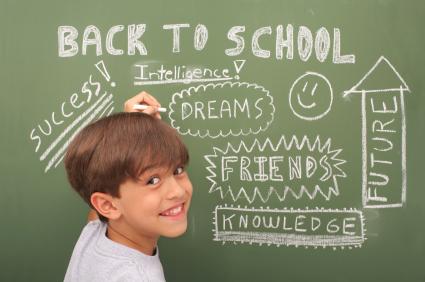 For most families with kids, back-to-school season is a time of excitement and memories as kids start a new year. Mark this special time in your kids' lives with new traditions that help commemorate the season and create lasting memories.
1. The Photo Op
Sure, you'll get the standard back-to-school pictures in a month or so, complete with the same blue background everyone else has, but rather than going with the tried and true, why not create fun memories by doing a unique, homemade photo shoot? For a cute keepsake, have your child hold up a sign showing what grade he's in on the first day of school. Take the picture against a light-colored, blank background (such as a white wall.) When the picture is developed, journal on the photo itself about things your child likes, does or has said recently. It will be fun.
2. Write a Letter
Few things elicit excitement for your child like a letter in the mailbox. Have your child write herself a letter on the last day of school. Encourage her to share lessons she learned the previous year and any other nuggets of wisdom that she's gained. A few days before school starts, mail the letter to your house so she has mail on one of the first days of school. She'll enjoy seeing both how her perspective has changed over the summer as well as being reminded of some of the lessons she learned last year.
3. Host a Book Swap
Everyone needs new reading material for the start of school, and everyone probably has at least a few books they want to get rid of. Invite friends over, and ask them to bring five books. Make sure to specify that the books need to be in good condition. As kids arrive, set books out on tables in such a way that they're easily perused. After typical party fare of pizza and drinks, have the guests draw numbers. The guest with number one gets to go to the table and choose a book first. At the very end, give the kids a chance to swap one of their choices with anyone else in the room. Give out bookmarks as favors.
4. School Supply Potluck
Pack kids' backpacks in style by splitting up part of the school supply list with other parents and neighbors. During the summer, invite parents to buy several of one type of school supply such as folders, pencils, erasers or notebooks. Ask parents to buy enough of that one supply for every attendee, and send invitations to kids that invite them to bring their backpacks to a back to school get together. During the party, set out all the stuff, and let kids know how much they are allowed to take of a given item. For example, kids could take three different pencils, two pens, etc. This way, kids end up with several different kinds of pencils, erasers and folders.
5. Bus Stop Bagels
Start the year off right - with the most important meal of the day! Get together with the other moms at your bus stop, and for the first week of school (depending on how many moms there are), set a schedule for bringing bagels to the stop. Each mom takes a turn to supply the stop with bagels and juice. The added promise of a little extra treat can help make getting back in that early-to-rise routine a little more tolerable. You also might find that your kids are willing to get up just a little earlier to make it in time to eat and chat with friends.
6. Set Some Goals
Help your child reach for the stars by having him sit down and set some goals for the new school year. For younger children, write each goal on the outside of an envelope. On the inside of the envelope, insert a small piece of paper that lists a reward for achieving that goal. Set the goals out where your child can see them and every time he achieves one of his goals this year, pull out an envelope and celebrate.
7. Teacher Care Package
Kids and parents aren't the only ones who have to adjust to going back to school. Get off on the right foot with your child's new teacher by sending in a first day care package. The package can include a combination of useful items and fun items:
Hand sanitizer gel
Pocket-sized tissues
Extra dry-erase markers or chalk
A gift card to the local teacher store
Instant coffee
Flowers or a plant for her desk
A plate of cookies that your child helped make
Use the opportunity to let your child's teacher know that you are available to discuss things at school by putting a note that includes your work numbers, email and the best way and times to reach you. Your child will think it's great that she gets to give her teacher a gift on the first day, and it will open the door of communication with your child's teacher and help get the year off to a great start.
8. First Week Friday Film Fiesta
That first week can be exhausting, but it is unlikely that your kids will be inundated with homework yet. So take that first Friday and throw a first week Friday film fiesta. Show movies that have something to do with school, such as Judy Moody and the Not Bummer Summer, or High School Musical. Serve typical movie snacks such as popcorn, candy nachos and water or soda. Kids will appreciate the last bit of summer before they have to really hit the ground running.
Celebrating Back to School
Celebrating back to school not only provides an extra opportunity for you to bond with your kids but it helps set a precedent for the year. It encourages kids to be excited about what they will do this year in school - and that excitement can make the difference in their attitude towards learning. Make your kids excited about going back to school by creating unique traditions.