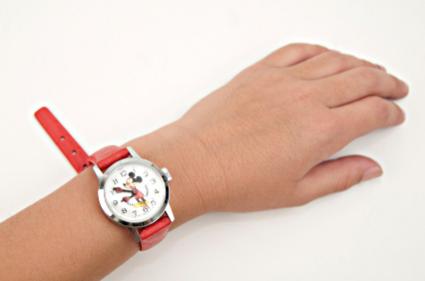 Teaching youngsters how to tell the time and why time keeping is important can sometimes be an uphill task. However, there is a wide range of cool watches for kids that are both fun to use and are packed with useful functionality. No matter the size of your budget or the age of your child, there's a watch that is cool, stylish, and educational.
Great Analog Time-Teaching Watches for Kids
As soon as kids become interested in the concept of time, it's a good idea to start working on telling time on an analog watch. Digital watches are great for older children who already understand the workings of an old-fashioned watch with a big hand and a little hand; however, an analog watch lets younger kids cement their time-telling skills the old-fashioned way. Try one of the following options.
Timex Kidz Analog Watch
Timex Kidz Analog Watches come in a variety of colors and character combinations, perfect for the youngest watch wearers. If your child is in early elementary school, one of these watches would be a great choice. The band is a comfortable fabric strap that's easy to adjust for the smallest wrists, and the Indiglo feature is great for checking the time at night. Parent reviews on the Timex website praise these watches for their bright, attractive colors, durability, and simple operation. These watches are priced at about $25 each.
Disney Kids Time Teacher Watch
Disney Kids Time Teacher Watches feature kids' favorite Disney characters and easy-read analog displays. From Mickey Mouse to the Disney Princesses, there's a watch here for every child. The adjustable Velcro bands are perfect for kids to put on or remove, and the colors are fun and engaging. The case is durable stainless steel, and you can personalize the dial with the child's name. Parent reviews on the Disney site are very favorable, especially about the fun style, quality, and ability to personalize. These watches retail for about $35.
Lego Time Teacher Watch
Lego Time Teacher Watches are another great choice for teaching kids to tell time. These watches have Lego mini-figures attached to the band and come with a Lego clock. The minute and hour hands are labeled, helping kids learn to tell the difference between the two. There's a design in bright primary colors, as well as a feminine pastel option. Both feature a two-year warranty and durable plastic watch case and band. On Amazon.com, parents praise the fun design and the easy-to-adjust band. These watches retail for around $30.
Swatch Flik-Flak Cute Size Watch
Swatch Flik-Flak Cute Size Watches are designed for the very youngest children. Sized to fit little wrists age three and up, these analog watches are durable and fun. The shock-resistant aluminum case adds plenty of durability, and the comfortable fabric strap is easy to adjust. Parents who reviewed the watches on the Swatch site praised the machine-washable strap and the super-durable construction. These watches are priced at about $35.
Active Digital Watches for Kids
Digital watches are great for older children who have learned to tell time already. Available in a wide range of colors and styles, there's a cool watch for every kid. It's important to purchase "active" style watches, since kids can be hard on their timepieces. These watches are rugged enough to withstand the occasional dip in the bathtub or drop on the floor. They're made with kids and their active lifestyles in mind. Try one of these popular options.
Timex Kids' T78751 Watch
Timex Kids' T78751 is perfect for active kids. The adjustable flame-printed strap, durable case, and easy-to-read display make it a hit with older kids and parents both. There's even an Ingiglo nightlight for viewing in the dark. Reviewers on Amazon.com praise this watch for its exceptional reliability and value. At about $15, the price is hard to beat.
Buying Watches for Children
Here are some tips to help buy the perfect watch for a child:
Look for watches that are easy to read. Watches with very ornate or difficult to read faces can put a child off learning the time.
Pick a watch with clear numerals. Watches without numerals are great for adults and can look very stylish. Watches without numerals are extremely difficult for a child to read, however, and should be avoided.
Avoid gimmicks! While a few unusual features will make for a great watch for a child, too many features can disguise the main purpose of a watch and slow down a child's learning about the importance of time keeping.
Look for a watch that is well designed and robust. A watch for a youngster will be subjected to a lot of hard wear, and as such, it is imperative that it is not too delicate. Cool watches that are waterproof or water resistant are ideal, as these will not get damaged if they get a little wet.
Learn to Tell Time Quickly and Easily
No matter what style of watch you choose for a child, you're giving a gift that helps to educate. Wearing a watch is a constant reminder of the importance of telling time, and kids with this type of exposure to time are more likely to learn this important skill quickly and easily.