Children look forward to the warm summer weather, yet many of their favorite activities pose possible dangers for them. Encourage kids to color these cute pages and then post them where they can be fun reminders of important summer safety practices.
Free Printable Summer Safety Coloring Sheets
All three of these safety coloring pages are free to download and print. They can be used at home, but they could also be used in school as part of a lesson plan on summer safety before the kids go on summer vacation.
If you need help downloading any of the coloring sheets, check out these helpful tips.
Note that the LoveToKnow logo will not appear on the printed coloring sheets.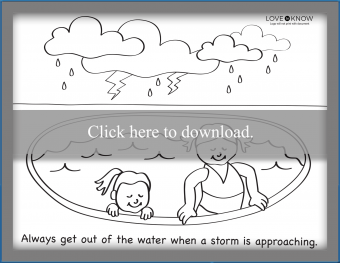 More Free Summer Safety-Themed Coloring Pages
Summer safety covers a lot of ground, and kids need all the tips and education they can get. The following websites have coloring pages on a variety of important safety-related issues they'll face during the summer season.
Kinder Art offers several free Safety Bee coloring sheets with summer themes including sheets for scooter safety, wearing sunscreen, and wearing a life jacket while boating.
Clipart Library has a summer sun safety coloring page that teaches kids the precautions they can take to protect themselves from the sun.
Centers for Disease Control offers a coloring book with summer safety tips aimed specifically at preventing injuries.
A Great Way to Keep Safety in Mind
Teaching children how to stay safe in the summer is the responsibility of every parent or guardian. Using coloring sheets as teaching tools presents the information in a way that's easy for kids to understand, and this can be a great way to reinforce the importance of following the rules of summer safety.