Bald Eagle Facts for Kids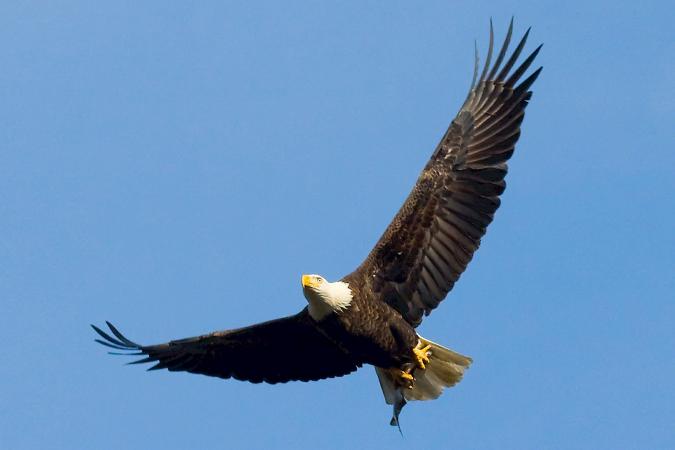 As the national symbol for the United States of America for over 200 years, bald eagles signify independence and strength. Thanks to the eagle's gigantic size and unique look, kids, and adults are enamored with these birds of prey. Find out more about the bald eagle with a few fun facts.
Size and Physical Features
Bald eagles are one of the largest birds of prey and can often be distinguished just by the way they look. National Geographic Kids offers some fun graphics to show size comparisons, so people can understand how ginormous these birds are.
Family Life
Because young bald eagles and adults look so different, a bald eagle can live to be 20 to 30 years old notes Cornell Lab of Ornithology.
Habitat and Diet
Bald eagles have adapted to life through their distinct habitat and diet. They are hunters, food thieves, and sometimes scavengers.
Get Up Close and Personal
If you can't get enough of these amazing creatures, look for rescued bald eagles living in enclosures at local zoos and sanctuaries. Until you can get out into the wild to eagle watch, check out these fun resources for more information and images.
Soaring High
Learning about unique animals like the bald eagle helps you appreciate them and keep them protected from the dangers of man and the environment. Use these facts and resources to spark your curiosity until your imagination and thirst for knowledge are soaring high.