You can create an easy hula dance routine by combining basic hula dance steps. These moves are staples of a variety of cultures that practice hula, including Hawaiian, Polynesian, and Tahitian. Follow the progression…
Keep reading »
Browse Topics in Activities for Kids to Do at Home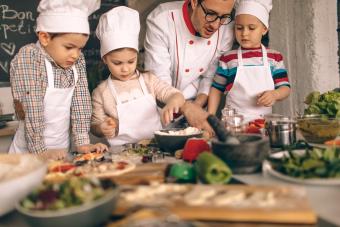 Keeping kids busy and entertained when everyone is confined to the house for an extended time period is challenging. Plan fun games, stay-at-home activities, and learn something new to stave off boredom.
Creative Arts Activities for Kids
Engage your children's creative side by planning a few fun arts-based activities. Gather supplies at home in one spot so kids can find everything they need. Use a large box, laundry basket, or designate a bookshelf to organize things. Print instructions off and place them next to the supply station.
Arts and Crafts Projects
Drawing is the obvious choice for an art project, but go beyond. Once they are done with their drawing, make paint together and have kids complete the picture. Other fun ways to get creative include:
Crafts for boys and girls like making silly putty, creating a dragon mask, or even no-sew sleeping bags.
Stringing necklaces and making napkin rings are easy crafts for preschoolers.
Make a paper bag puppet using printable templates to color and then put on a puppet show.
Older kids can try their hand at string nail art, water color painting, or even knitting.
Drama, Theater, and Music
Record performances and share them on social media or have kids put together a live performance for grandparents, friends and relatives over a video call. Theater and drama activities are sure to keep things fun for everyone.
Indoor Family-Friendly Games
Playing games together is a great way to curb boredom for the entire family.
Consider playing dinner table games while you eat as a way to bond and keep conversation lively.
Minute to Win It-style games are hilarious options to get the sillies out when you're stuck at home.
Set up brackets for a board game tournaments. As more family members get eliminated, the games get harder in each bracket.
Families with large basements or family rooms can move furniture to accommodate larger games. For example, use painter's tape and set up a four-square grid.
Educational Activities for Kids
When kids miss school, you may worry they will also miss out on important educational opportunities. Instead, look for ways to make learning exciting at home for various subject areas.
Science
Plan a few fun experiments or try making gum with your kids. Go in-depth on their favorite animals or learn how the human body functions. Use printable hygiene materials to help kids understand why staying clean and germ-free is good for them. Invent a flying car or brainstorm ideas for upcycling trash.
Language Arts and Reading
Younger kids can watch famous authors read their children's books out loud on social media platforms. Have older kids rewrite the ending to their favorite adventure novel. Print templates to create a graphic novel. Utilize online tools to spelling and grammar to make sure everything is done correctly.
Math
Play math-related games, like dice games, to reinforce counting skills. Youngsters could even print their own clock to learn how to tell time. Older kids can help teach math to younger children using concepts like cooking and gardening. Have kids double or halve recipes in the kitchen using multiplication and division or plot their own garden using geometry.
Social Studies, Geography and History
Community responsibility is a huge part of social studies so make sure you have fun activities planned like creating their own park using building blocks. Older kids who understand the Bill of Rights can write their own bill for the family. Upper elementary students may also find putting together a Jeopardy!-style modern history trivia tournament a fun activity. Have kids investigate different countries and their flags, and then kids of any age can design their own personal flag.
Stay Busy, Not Bored!
While printable kids' activities will keep them busy for a while, you'll need to come up with some fresh ideas to keep kids from getting bored. Think about what your child is interested in and you're sure to come up with a few great ideas. Gather them before boredom sets in and time will pass quickly!